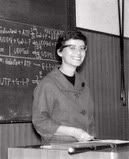 Esther Lederberg dies at 83
Stanford University microbiologist Esther Miriam Zimmer Lederberg, a trailblazer for female scientists and the developer of laboratory techniques that helped a generation of researchers understand how genes function, has died at Stanford Hospital.

Professor Lederberg, who lived at Stanford, was 83 when she died Nov. 11 of pneumonia and congestive heart failure.

She discovered the lambda phage, a parasite of bacteria that became a key tool for the laboratory study of viruses and genetics, and was the co-developer with her husband [Nobel prize winner Joshua Lederberg] of replica plating, a technique for rapid screening of bacteria for desired mutations.

"She developed lab procedures that all of us have used in research," said cancer researcher Stanley Falkow of the Stanford University School of Medicine.

She was also a pioneer of women's rights, becoming a full professor at a time when women were rare on the faculties of Stanford and other major universities. "She was a real legend," said Dr. Lucy Tompkins of Stanford.
(Continued at Aetiology)